We're back! Not only is Barcamp Manchester back for its 11th edition, but it is in person again! On Saturday July 2nd 2022, we will be at City Labs 1.0, near Manchester Royal Infirmary and the universities, and I for one, cannot wait!
I've had the pleasure of being involved in organising Barcamp Manchester for 4 years now (I think, time flies when you're having fun), alongside the incredible Claire and Chris, and seeing how it has made a difference to people over the years has been heart-warming.
My favourite stories each year are always from people who have felt the culture of the event is so supportive, they have been inspired to give their first ever talk or try out a new talk idea. This is exactly what we want from the event. An environment that exudes support, learning, sharing, fun and inclusiveness. We wouldn't have an event or content for it without the attendees so it always makes me happy to hear when people have a great time!
I've tried to give a talk each year, both in person and in our pandemic induced online version. I have discussed everything from mobile development to my story into tech, and even productivity. I haven't decided yet what this year will be about! Tag us on Twitter if you have any suggestions for a talk you would like me to give!
But I have talked about how excited I am and what my favourite parts are, but what about the biggest question of all..
"What is Barcamp?"
Barcamp is an unconference, which means the attendees make the content. At the start of the day, there will be blank talk tracks which line up to rooms, and then short time slots, with time for changeover. There will be index cards, pens and blue tack available. After the introduction session, everyone who wants to talk can grab an index card, a pen and some blue tack, fill in their talk title and grab a slot.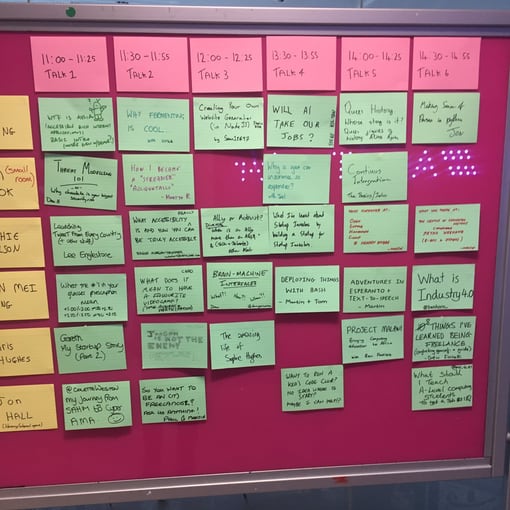 This is what makes it so fun, nobody knows what kinds of topics we will see at the start of the day. As long as it is family friendly, any topic is allowed so you have a place to share about something you love. In the past we have seen topics ranging from cooking (with a live demo thanks to our online version), to neurodiversity, to balloon animals, to fighting robot vacuums and even how to make cheese at home. I learned the easiest cheese to make at home is Halloumi, who knew!
If you attend a talk and find it isn't what you expected, or you just want to see something else, you can also simply change rooms. There is no expectation to stay in a room the whole time. We call it 'vote with your feet'. Nobody will judge you or ask questions if you walk out. Give yourself the chance to have the best time possible with content that inspires and excites you. I always leave Barcamps really excited about things I have seen or learned that day.
Barcamp events aren't just about the content though, they are about the people too. Old friends, new friends, young and old. You never know where you will find new friends or people who share an interest in a topic you love. Or maybe you will find a new hobby or interest you didn't know you were into until you came along!
The event stretches beyond just the talks as well though. We have branded t-shirts available (including the names of our incredible sponsors), food is provided and there is even social gaming afterwards including Werewolf. If you haven't heard of it before or have heard of it but don't know how to play, don't panic, as every year we have local experts who take the time to teach everyone how to play. Anyone is welcome and it wouldn't be Barcamp if we didn't share knowledge on how to play.
These games often continue at a local spot after the Barcamp venue closes so the action can go on for as long as you want! But of course there is no pressure to play or stay after the game relocates. Not everyone wants to be out late, or wants to play games. The beautiful thing about Barcamp is you can make it what you want. If you prefer to leave earlier to have dinner at home, see family or just want to leave, that's OK!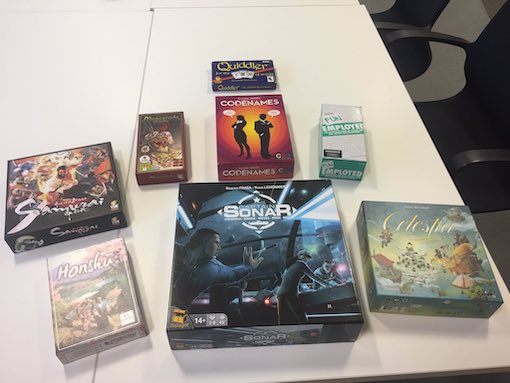 Each year we try to make things better than the last. To listen to feedback and things we have learned ourselves from the past events, or from other events we are involved in. This year we even have a SliDo, where you can ask us questions or let us know things so we can learn. Although we are a small team of 3 organising the event, we wouldn't have an event without the people so we are here to help you, involve you, listen to you and most of all, see you have the best time possible, so see you there!