What is BarCamp?
A BarCamp is a conference where everyone is equal, and talks can come from anyone on any topic. It's different from a typical conference, where the talks are curated, the speakers have to apply to speak and all the topics are on a common theme.
BarCamps are free and attract talks. BarCamp is for geeks, anyone who is passionate about a topic, or people who just want a fun weekend where they can share their secret passion, or discover something new.
Talks in previous years have ranged from topics such as web development, design, inspiring women, visiting Chernobyl, building a robot for Robot Wars, learning Esperanto, mental health, and making cheese.
The organisers of BarCamp coined a new word for this: the unconference.
An unconference is a multi-track conference without a set agenda; the lines between attendee and speaker are blurred and all attendees are encouraged to give talks, with the schedule open for anyone to place their own talk in.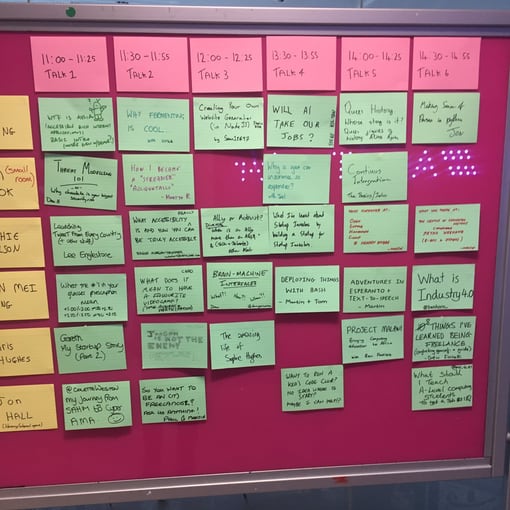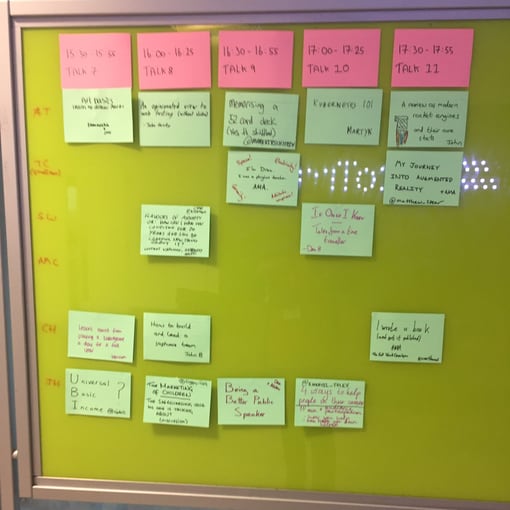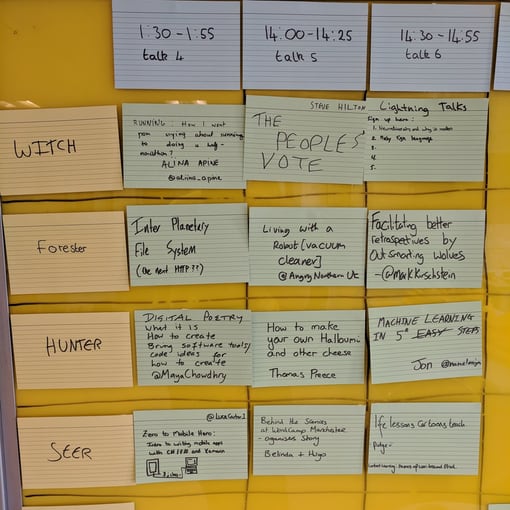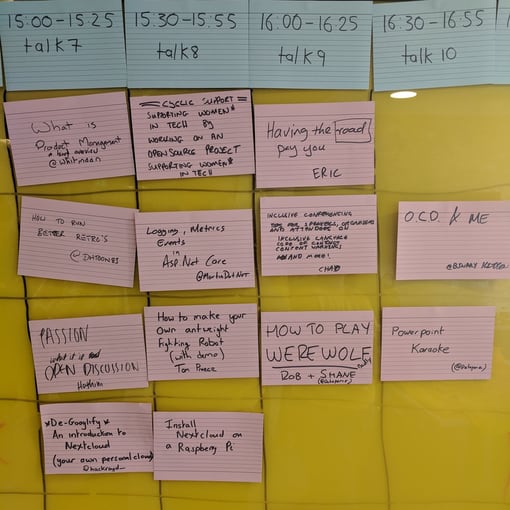 BarCamp started in Silicon Valley in 2005, and came to Manchester in 2008, which makes BarCamp Manchester Manchester's longest-running and largest "unconference". The dynamic nature of the BarCamp schedule copies the idea of the lobby track at other conferences. Talks are ad-hoc, and those which go down very well often spin off follow-up talks later in the event.
It's also a great opportunity for those who are not polished public speakers to gain experience in front of a very friendly crowd.
Is BarCamp for me?
Read blog posts from our previous attendees and even organiser Luce, to get a feel for what a BarCamp is like: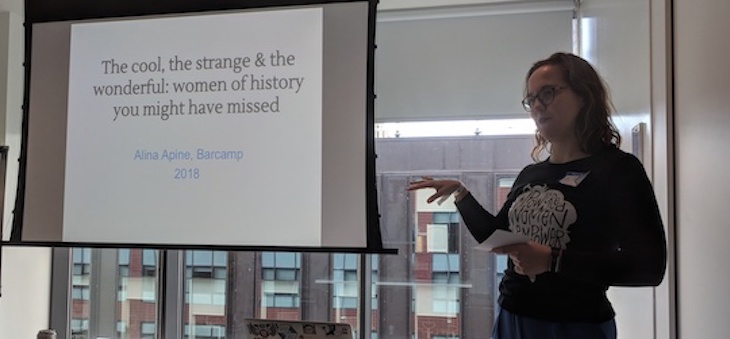 FAQs
Do you have a code of conduct?
Yes! BarCamp Manchester is dedicated to a harassment-free unconference experience for everyone. Our Code of Conduct is based on the best practice one published by the Geek Feminism wiki, and will be introduced in the opening ceremonies. Please take some time to read the full code of conduct and familiarise yourself with it in advance of the event.
Do you have a privacy policy?
We have one of those too, we try to collect no more data than we need, and you can read the privacy policy in full.
How are you planning to keep us safe from COVID-19 when attending BarCamp?
Sadly COVID-19 is still with us. We ask that, if you can, to test before attending, and to stay home if you're currently showing any symptoms associated with COVID. In line with current government guidance, mask wearing will not be mandatory, and please respect individual decisions to wear or not wear a mask in line with our code of conduct.
We will be working with the venue to maximise ventilation on site.
Who talks?
Everyone. Especially you (unless you really, really don't want to). No talks are scheduled in advance, instead a number of tracks are available and people place a card with their name and talk in one of the spaces on The Grid, the dynamically evolving schedule for the day.
Each session lasts 25 minutes, and sessions can be on anything (within the code of conduct). Previous BarCamps have seen a wide variety of talks, such as the Raspberry Pi, Cocktail Making, NFC, Life Hacking, Arduino, Roller Derby, Fencing Lessons, and Web Development, as well as other activities such as "let's watch videos of robots on YouTube" or group discussions and activities. You might not be able to think of anything now, but a lot of people find inspiration on the day, and impromptu talks and discussions are a huge part of BarCamps. We encourage everyone who attends to give a presentation, and this can be as formal or as informal as you like. If you find that you're struggling to see talks you want to go to, fill an empty slot with a discussion on a topic you are interested in!
How does the grid work?
The grid opens after the opening session. It'll be organised into time on one axis, and tracks along another. Find a free slot, check it doesn't clash with anything that you want to see, and fill out a card with your name and session title and then stick it to the grid! The grid evolves during the day, so remember to keep checking it for talks you're interested in!
What happens if a talk starts and I don't understand it?
BarCamp operates on the rule of two feet. If you're not enjoying a talk, then please leave and find another one that you will! It's okay to join a session half way through, we want you to make the most of your day.
On the flip-side, if you're speaking and people leave, that's okay! It just means that they're not a good match to your session, not that you're boring or bad!
Does anything happen outside of the main event?
To be confirmed
As the main set of talks grows to a close on Saturday, then social tracks start in the evening. This includes BarCamp staples such as PowerPoint karaoke, and Werewolf 🐺.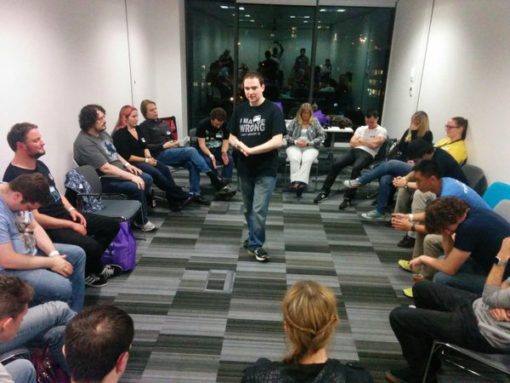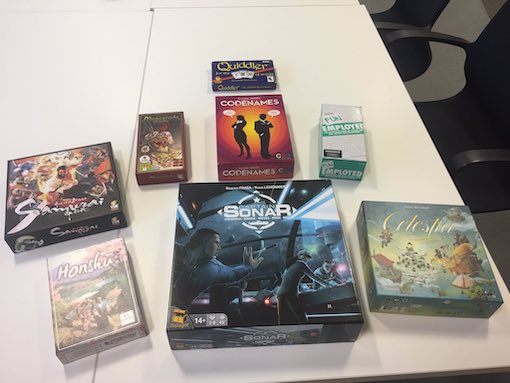 Contact
Your volunteer organisers are:
Follow BarCamp Manchester on your favourite social media platforms: